<<<
On the cover of this pocket-sized edition of John Ashbery's Self-Portrait in a Convex Mirror, the poet stands in a doorway. He wears the somehow simultaneously ill-advised and completely stylish ensemble of a half-unbuttoned patterned shirt and tight beltless pants. Looking closer, the doorway seems to open not to a room or to the outside but to a closet: on a shelf behind him there is a pot or urn, and the flatness of the photograph makes it seem a bit as if he is wearing it on his head, like a bizarre hat. He is looking straight out of the front of the book, with a direct, slightly furrowed expression. He is about to smile beneath his full mustache. Something strange is just about to happen.
When I bought this copy of Self-Portrait, in 1993, I had just begun a doctoral program at UC Berkeley. Full of a desire, secret to everyone including myself, to live a creative life, I was skeptical about, but also attracted to, poetry. Now, holding this same book in my hand, I remember that time, and how Ashbery's poems at first didn't seem to make any sense, or go anywhere, or do anything. I felt angry reading them, as if I were in the presence of a giant literary hoax that I had the choice either to sanction or to condemn. The situation felt profoundly ethical to me. The poems offended my sense of what poetry, and art, should do.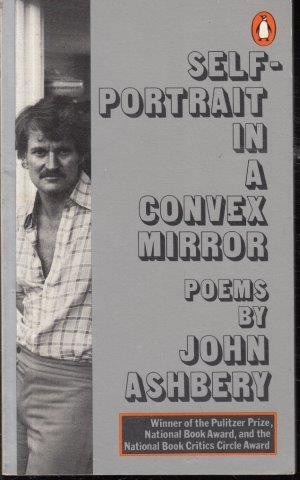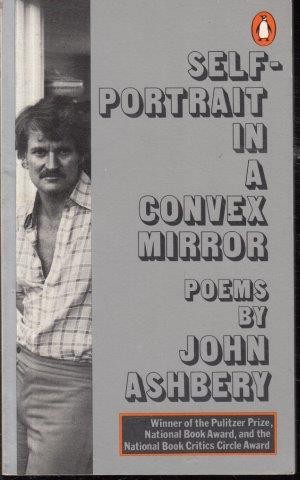 I remember how I carried into the reading of the book all the notions I had gathered, from my education and upbringing, about art. And also how I felt, despite my anger and resistance, like the poems somehow were addressed to me. That the poet not only needed to say these things but also needed someone to hear them. Something huge and important was at last beginning. What I thought was my principled resistance to meaninglessness was really a fear of, and attraction to, a new life.
Here is the first stanza of the poem that changed my mind about Ashbery, and therefore about contemporary American poetry, and I guess therefore my life:
The One Thing That Can Save America

Is anything central?
Orchards flung out on the land,
Urban forests, rustic plantations, knee-high hills?
Are place names central?
Elm Grove, Adcock Corner, Story Book Farm?
As they concur with a rush at eye level
Beating themselves into eyes which have had enough
Thank you, no more thank you.
And they come on like scenery mingled with darkness
The damp plains, overgrown suburbs,
Places of known civic pride, of civil obscurity.
>>>

For more of this article, adapted from Matthew's recently published book Why Poetry? (HarperCollins). buy the book -- or link here for the article as it appeared in The Paris Review.