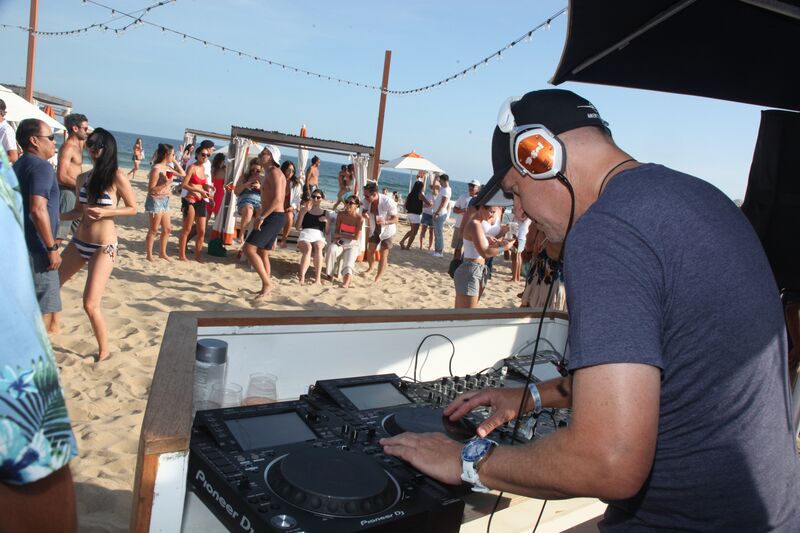 David Solomon, soon to be CEO of Goldman Sachs, moonlighting in the sun as a disc jockey at Gurney's. (Photographer: Amanda Gordon/Bloomberg)
As summer winds down, and Labor Day recedes in the rear view mirror; as political ads pollute the air, kids go back to school, and the temperature drops twenty degrees, it is time too take stock of the economy and the stock market's prospects as we enter what is historically the scariest time of year on Wall Street -- September and October. It is with this in mind that we read about David Solomon, the incoming CEO at Goldman Sachs, who likes spinning discs at beach parties in Montauk and plans to continue the practice. This is from Amanda L. Gordon's Bloomberg article of September 4, 2018. Note, in the first sentence of this excerpt, "the iconic, oceanfront venue in Montauk,New York," a phrase that authenticates everything else in the piece:
<<<
On Sunday at the iconic, oceanfront venue in Montauk, New York, he started his set at 3 p.m. playing mostly electronic house music from a thumb drive, including "Sax on the Beach" by Party Pupils and MAX. The music's tempo matched the scene of clear-blue sky, post-brunch, with people easing into the second day of a three-day weekend in the final weeks of summer.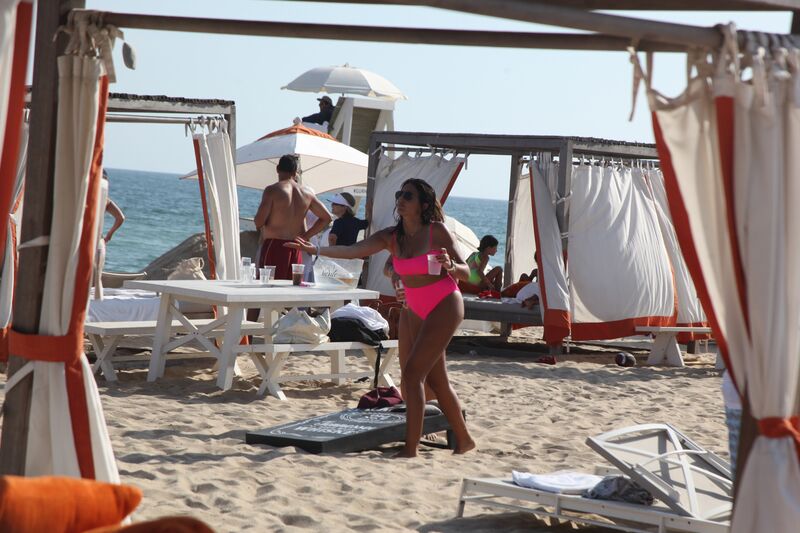 It was chill, yet exuberant. A few women in bikinis danced by the booth. A couple of cornhole games were in play. The loungers on the day beds sipped rose. There was a bachelorette party, the lead singer of the band East Love and a Quick Fix IV specialist, who'd just returned from infusing a client with a hangover.
>>>

I don't know about you, but I have a weakness for paragraphs beginning "It was chill."

It was reassuring to learn that Solomon, with the wisdom of his namesake, views such beach parties as part of his "transition" to the corner office. Not only that but it's hard work, a word that turn up twice in the following:
<<
Asked if he's working on any new songs, Solomon made clear his mind is on Goldman. He would have loved to stay longer, but ended his set at 5 p.m. because he had other plans, a social event "with a lot of work," starting at 7 p.m. in Southampton.
>>
I could also not help loving thess sentences:
<<
One admirer who approached the DJ was Kellan Carter, a 2009 college grad and venture capitalist, who was wearing a T-shirt printed with the dubious honorific "Lehman Brothers Trader of the Year 2008." He asked to pose for a photo and Solomon obliged.
>>>

Other recent appearances of my name in business-page headlines (in, for example, the Wall Street Journal) have lifted my spirit on the cold, rainy day that Jimmy Van Heusen envisaged. 
For more of the Bloomberg article, click here: Goldman Sax on the Beach.
You may wonder how the information conveyed here will affect the market. Of course, no one knows with absolute uncertainty, and if there's one thing traders hate it's uncertainty as they stare at the wall of worry they must climb. When asked how the market will perform tomorrow, either J. P. Morgan, Winston Churchill, or Yogi Berra quipped, "it will fluctuate." Can't argue with that. -- DL