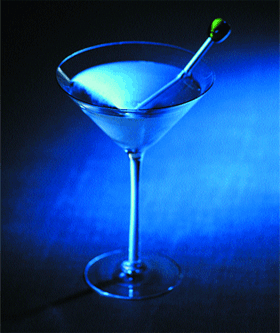 <<
The first Martini I ever drank was strictly medicinal, for threatened seasickness, and in spite of a loyal enjoyment of them which may be increasing in direct ratio to my dwindling selectivity of palate, I must admit that I still find them a sure prop to my flagging spirits, my tired or queasy body, even my over-timid social self. I think I know how many to drink, and when, and where, as well as why; and if I have acted properly and heeded all my physical and mental reactions to them, I have been the winner in many an otherwise lost bout with everything from boredom to plain funk. A well-made Martini or Gibson, correctly chilled and nicely served, has been more often my true friend than any two-legged creature.
-- M. F. K. Fisher, "To the Gibson and Beyond" (The Atlantic, January 1949)
>>
Remember: the only difference between a Martini and a Gibson is that the former gets an olive or lemon twist, the latter a cocktail onion or two. To make a "dirty" Martini serve with an olive and add a little of the olive juice from the jar. Vodka Martinis are OK, but for the full effect I recommend mixing gin (Hendrick's or Plymouth or Tanqueray or Beefeater) with a tablespoon of dry vermouth (preferably French: e.g. Noilly Prat); shake with ice, and serve straight up in frozen Martini glasses. Keep the gin (or vodka) in the freezer.
-- DL