Tips on Tables - By Robert W. Dana - November 30, 1945
Sinatra Takes Over Wedgewood Room and Wins Crowd Despite His Illness
The quality of laryngitis is strained these nights at the Waldorf-Astoria's Wedgwood Room where Frank Sinatra is making a belated start on a short engagement.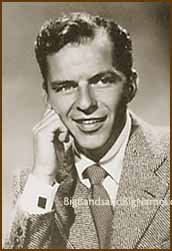 It is painfully obvious that he shouldn't be singing until he has had proper rest yet he sang 14 numbers Wednesday night, the concluding one "Old Man River."
Ordinarily the slim technician of modern song-phrasing is in his element with a large band behind him-wasn't he once a swing band vocalist? And Dick Stable's 22-piece band, featuring numerous violins and a harp, lends splendid support, but the voice that has hypnotized millions was like a butterfly in a whirlpool.
It was a masterful performance, nevertheless. There was the familiar stance, the bending of the microphone, the intent, searching glance that swept back and forth across the room in piercing penetration of the customers' thoughts and feelings and moods. He'd even turn now and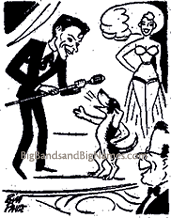 then and seem to signal facilely to his piano accompanist.
Rises to His Best.
Frank's opening number was "Paper Moon"- light, airy and huskily fragile. Next came "It Might as Well Be Spring," "Laura" and "Its Been a Long, Long Time."The fifth tune was Irving Berlin's memorable "How Deep Is the Ocean," which is having a notable rebirth among top favorites. It revealed Sinatra at his best, too. From then on the singer seemed to have his laryngitis licked and the program became vibrant. He told of the time Jimmy Van Heusen and Phil Silvers were houseguests at his home and wrote a number called "Nancy With the Laughing Face," dedicated to the joy and sparkle that is his daughter. No great shucks of a composition but a tender, touching song.
After rendering "My Romance," from the still-remembered "Jumbo," and "When I Marry Sweet Lorraine," he pulled the first surprise of the evening with "Bess, Where Is My Bess." A haunting, lovely tune, he sang it very well.