The new issue of Plume is out. Edited by the admirably imaginative Danny Lawless, issue #129 (May 2022) contains work by D. Nurkse,  Tomasz Różyck, Susan Aizenberg, Bill Stratton, Jeffrey Skinner, Cartol Muske-Dukes, Lauren Camp, and, well, why don't we just copy the TOC below the picture? I recommend the section "Poets and Translators Speak," in which the writers comment on their work.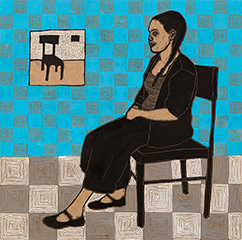 Ephrem Solomon
Folk Memory 3, Woodcut and mixed media, 2015
Plume: Issue #129 May 2022
Poems
 D. Nurkse Poetry: A Mirror, a Pencil and an Envelope. Seven Minutes with D. Nurkse and Nancy Mitchell
Lauren Camp Small Scenes without Apology
Danielle Blau (Blessed Are) They Who Preserve
David Lehman Three Poems from a Work in Progress
 Antonio Gamoneda Antonio Gamoneda, from Book of the Cold (World Poetry Books, May 2022) translated from Spanish by Katherine M. Hedeen and Víctor Rodríguez Núñez
Jeffrey Skinner Four From Delos
Mark DeCarteret Lives of the Postmodern Poets
 Tomasz Różycki Two poems by Tomasz Różycki translated from Polish by Mira Rosenthal
Christopher Howell Ashes of Roses and Blue Chair
Bill Stratton What Almost Killed You
Alejandro Escudé My Fifth Tattoo at the Darkstar Ink Parlor
The Poets and Translators Speak
Rosenthal, Stratton, Aizenberg, et. al.
Book Review
distant transit by Maya Haderlap reviewed by Mark Wagenaar
Featured Selection
 A Travel Guide for the Exiled; An Interview with Zein El-Amine, by Leeya Mehta
Essays and Comment
A Kind of Sorcery: On Shame, Defiance and Moral Imagination by Richard Hoffman